DON QUIXOTE DEFENDS THE DOVECOTE
- New York Herald, Jan. 6, 1872
Henry Bergh, founder of the Society for the Prevention of Cruelty to Animals, considered the sport of pigeon shooting "cruel and unmanly" and "a bad omen for our civilization." On this day, "the dreaded name of Bergh threw a damper over the spirts" of the Jerome Shooting Club, who had gathered 200 strong to watch eleven of their number vie for a silver cup. Fortunately the gentlemen with the guns capitulated with loud swearing rather than noisy blasts.
A NATION'S ANNIVERSARY
Impressive Exercises at St. Paul's and the Sub-Treasury – The Monster Parade from the Battery to the Park – Fifty Thousand Men in Line and a Million Looking On
- New York Times, May 1, 1889
The occasion was the centennial of George Washington's inauguration. Pictured below is the Reverend Dr. R. S. Strong offering a prayer on the site of the Old City Hall where Washington took the oath.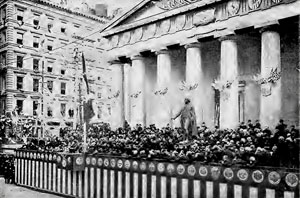 AN ENGLISH POET'S VIEW OF NY
"An architecture conceived in a child's dream ... glittering clamor of myriad windows set like colored diamonds."
- Mina Loy upon sailing into the harbor and seeing the skylilne, 1916
Bill's Books
The Mevrouw Who Saved Manhattan
A Novel of New Amsterdam by Bill Greer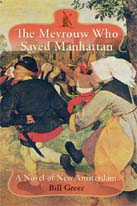 A "romp through the history of New Netherland that would surely have Petrus Stuyvesant complaining about the riot transpiring between its pages ... Readers are guaranteed a genuine adventure that will evoke the full range of human emotions. Once begun, they can expect to experience that rare difficulty in putting down a book before they have finished."
-- de Halve Maen, Journal of the Holland Society of New York
_________________________
A DIRTY YEAR
Sex, Suffrage & Scandal in Gilded Age New York
A nonfiction narrative of 1872 New York, a city convulsing with social upheaval and sexual revolution and beset with all the excitement and challenges a moment of transformation brings.
Forthcoming from Chicago Review Press