No views of New York are more iconic than looking from the harbor toward lower Manhattan. The Dutch who first settled Manhattan sketched the island with little more than a fort, a windmill and a dozen houses rising along the shore and Indians paddling around the bay. Four centuries later a photographer captured the new One World Trade Center half-clad but already towering over Wall Street. These views frame the images here that chronicle how this perspective on the city has transformed through four centuries - and into a fifth.
17TH CENTURY
Click on each image to pop up a larger version.
c. 1626: This is the earliest known drawing of Manhattan. Kryn Fredericks, the engineer of Fort Amsterdam, shown in the picture, drew it. This version is from the 1655 book, Description of New Netherland, by Adriaen van der Donck.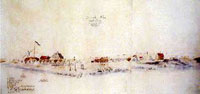 c. 1648: In 1648, Adriaen van der Donck sailed from New Amsterdam to Holland to protest Director Peter Stuyvesant's governing of New Netherland (the name of the entire colony; New Amsterdam refers to the village in lower Manhattan). In July 1649, he delivered his "Remonstrance of New Netherland," including this drawing, to the High and Mighty States General, the governing body of the Netherlands. The drawing was discovered in the early 1990s in Vienna's Albertina Museum.

c: 1652: Johannes Blaeu engraved and published this drawing. It presumably is based on the above drawing of New Amsterdam. It was incorporated into what is known as the Jansson-Visscher map, which van der Dock had Johannes Jansson engrave.
1664: Johannes Vingboons created this view shortly before Peter Stuyvesant surrendered New Netherland to the English.
1671: This is an early drawing after the English takeover. In this unknown artist's mind, the change of name to New York has not taken hold. [Wikimedia Commons]
1673: For a brief period beginning in August 1673, the Dutch retook New Amsterdam from the English. This drawing is an inset in a map from that period by Hugo Allard. The place appears to have expanded considerably under the English. On the right, the wall that gave Wall Street its name runs across the island. It had been built by the Dutch in 1653. [Wikimedia Commons]
Sex, Suffrage, & Scandal
in Gilded Age New York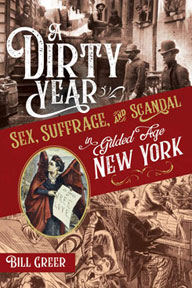 A nonfiction narrative of 1872 New York, a city convulsing with social upheaval and sexual revolution and beset with all the excitement and challenges a moment of transformation brings.
"Solid Research and
Outstanding Storytelling"
- Booklist
And from New York's Dutch Era
A Novel of New Amsterdam
The Mevrouw Who Saved Manhattan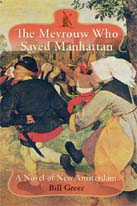 "[A] romp through the history of New Netherland that would surely have Petrus Stuyvesant complaining about the riot transpiring between its pages."
- de Halve Maen, Journal of the Holland Society of New York